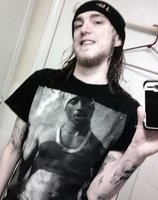 Christopher Thomas "Tommy" Cochran
On Friday, April 14 we lost a truly unique individual, Christopher Thomas Cochran. Having fought bravely for 24 years,Tommy lost his battle with Cystic Fibrosis while he was home in the company of his mother Beth Abbott, father Shane Cochran, and maternal grandmother. He was born April 5, 1993 in Lynchburg, Virginia, and graduated from Liberty High School in Bedford Virginia, where he lived with his mother and (step)father Chris Abbott. Tommy was kind hearted and gentle, but was also a fearless defender of anyone he felt was bullied or treated unjustly. He loved life and lived it on his terms, refusing to let his CF hold him back. Tommy was calm and laid back with a clever, dry sense of humor. He was honest, sincere, witty, creative,and a loyal, trusting friend. Those who knew him understand how privileged they are. There are no words that adequately describe the loss felt by close friends and family. During the last few weeks of his short life, Tommy was most concerned about how his passing would hurt his loved ones. Therefore, we celebrate his extraordinary life and cherish the much too brief time we had with him. He will not be forgotten.
The family will receive friends beginning at 6 PM on Monday, April 17, 2017 at Updike Funeral Home & Cremation Service, Bedford and a memorial service will follow at 7 PM in the chapel with Sister Alison McFarland officiating. Arrangements are being handled by Updike Funeral Home & Cremation Service, Bedford.