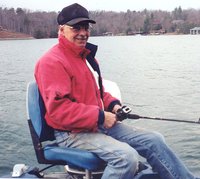 Michael Wayne Blankenship
On Tuesday, September 26, 2017, a beautiful fall morning, Michael Wayne Blankenship, age 64, passed away peacefully at home surrounded by his loving family. He is now in his heavenly home with his Lord and Savior, Jesus Christ.
Born on Saturday, December 13, 1952 in Bedford, he was the son of the late Amos Kelly and Nannie Florence Dinkle Blankenship. He was preceded in death by his sister, Algie B. Mayhew and brother-in-law, William Mayhew.
He is survived by his loving wife of almost 42 years, Sharon Eppley Blankenship and three daughters: Lindsay B. Webb & husband, Jared, Shannon B. Daniels & husband, Cliff, Whitney L. Blankenship and boyfriend, Matthew Quarles. He is also survived by his brothers and sisters; Dennis & wife, Madeline Blankenship, Bobbie & wife, Lois Blankenship, Marjorie & husband, Silas Dalton, Lynwood & wife, Alma Blankenship, Shelby & husband, Barry Robertson, Sandra & husband, Leslie Falls, Sr.; father-in-law and mother-in-law, John & Mary Eppley; sister-in-law Laura E. Key & husband, David; brother-in-law Andy Eppley & wife, Esther; along with many beloved nieces, nephews, cousins, close friends, and special cousin, Glenn Dinkle.
The family would like to especially thank the Centra Hospice Bedford for their wonderful care of Mike, as well as the continued prayers and support from family and friends.
At Mike's request, a graveside service will be held at Quaker Baptist Church Cemetery on Thursday, September 28, 2017 at 3:00 pm with the Rev. David Timma and Hospice Chaplain, Justin Brown officiating. Following the service, friends and family are welcome to gather at their home to celebrate Mike's life.
In lieu of flowers, memorial contributions can be made in Mike's memory to Quaker Baptist Church Building Fund, 4665 Chestnut Fork Road, Bedford, VA 24523; Morgans Baptist Church Building Fund, 2086 Morgans Church Road, Bedford, VA 24523, or Centra Hospice Bedford, 1621 Whitfield Drive, Bedford, VA 24523.
Arrangements are being handled by Updike Funeral Home & Cremation Service, Bedford.