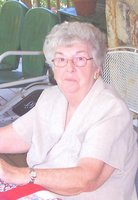 Mary Helen Fannon McNeese
Mary Helen (Fannon) McNeese, 77 of Smith Mountain Lake, Huddleston, passed away Monday, November 13, 2017 at her residence. She was born on Thursday, October 31, 1940 in Lee County, VA, a daughter of the late Wirt Earl Fannon and Pearl Sue Moore Fannon.
She was retired from the FBI with thirty-five years service and attended Staunton Baptist Church.
She is survived by her husband of fifty-seven years, John Allen McNeese; her daughters, Victoria Renee Nehls of Spotsylvania, Stephanie Diane Enriquez of Lee Co., VA as well as three grandchildren, four great grandchildren and ten of her eleven siblings.
Funeral services will be held at 12 noon on Saturday, November 18, 2017 at Staunton Baptist Church with Rev. Dr. John Reel officiating. Interment will follow in Staunton Baptist Church Cemetery. The family will receive friends Friday, November 17, 2017 from 5 until 7 PM at Updike Funeral Home & Cremation Service, Bedford.