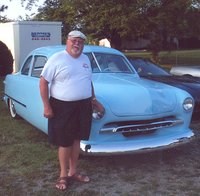 Douglas Colin Fox
Douglas Colin Fox, 75, of Huddleston & formerly of Alexandria passed away on Monday, November 20, 2017 at his home. Douglas was born in Asheville, NC and was the son of the late Zeb Wayne and Agnes Smith Fox. Douglas was a veteran of the U.S. Air Force and retired from the Department of the Army, United States Army Davison Aviation Command.
Doug was the consummate "gear head" and an avid old car guy. We must not forget his talents as a storyteller. We who knew him best remember the fun times at the car
shows in Gettysburg, PA, Charlotte, NC, Mother's Day Run, Colonial Beach and many local Saturday night events, too many to name here. Doug was surrounded by the best of friends. His friends were loyal to him and helped him when he needed them most. In return he was a loyal friend and always had their back.
He is survived by his sister, Beverly Charlene Fox Jones of Virginia Beach, VA. She will miss her big brother. His beloved cats Jack and Mack will also miss their
buddy.
Doug's love of cars and anything with a motor and speed was unlimited. Even though he openly criticized and complained about how the "new" Nascar had too many rules and too many daddy's little rich boys, no race went unwatched by Doug. His days of racing at Manassas Raceway and Beltsville, MD were some of his best memories. When his health declined and he was unable to pursue his passions, his days were numbered. In the spirit of his love of cars, it is befitting that all of us gather in a garage and send Doug off in a plume of smoke from many exhaust pipes.
A memorial service and gathering of old friends will be held in such a place at 11:00 AM on December 8, 2017 at Larry Rao's Garage, 4329 Hawkins Mill Road, Lynchburg, VA 24503. We invite you to bring a chair and come join us.
Arrangements are being handled by Updike Funeral Home & Cremation Service, Bedford.