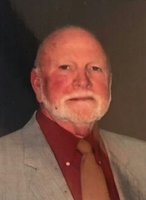 Louis Richard Witt
Louis Richard Witt, 81 of Evington, went home to be with his Lord and Savior on Wednesday, December 20, 2017 at Carriage Hill Memory Care Unit.
He was born on April 3, 1936 in Bedford County, a son of the late Russell Witt and Celesta Pearl Witt.
He loved and adored his wife, Carolyn who preceded him in death. He was so proud of his children and grandchildren, spending many days watching his grandchildren play sports, and going to their concerts and loved just spending time with all of them. He was known as "Papa Lou." He enjoyed traveling and singing. He traveled to 48 of the States. He was a member of Mentow Baptist Church where he was very active and was a Deacon. He retired from Babcock & Wilcox, and worked in his early years at Southland Life Insurance.
Left to cherish his memory are his children, Debra Witt Dooley and husband, Kyle of Bedford, Alisa Johnson Martin and husband, Steve of Lynchburg, and Jeff Johnson of Silver Springs, MD; his grandchildren, Joshua Martin of Bozeman, MT, Jacob Martin and wife, Cianne of Bozeman, MT, and Joy Martin Landa and husband, Sam of Lynchburg and his great-grandson, Bowman Landa; a sister, Avis Cato and husband, Jackie, sisters in-law and husbands, Charlotte and Charlie Nichols of Evington; Phyllis and Gene Warren of Amelia, and Yvonne and Jimmie Nichols of Huddleston and many nieces and nephews.
The family requests that in lieu of flowers, donations be made to the Alzheimers Association, 1160 Pepsi Place, Suite 306, Charlottesville, VA 22901, the Diabetes Association, PO Box 11454, Alexandria, VA 23212 or Mentow Baptist Church, 3282 Mentow Drive Huddleston, VA 24104.
The family will receive friends at 1:00 till 2:00 p.m. on Friday, December 22, 2017 at Mentow Baptist Church and a funeral service will follow with the Rev. Kyle Dooley, Steve Martin and Jacob Martin officiating. Interment will follow in the church cemetery. Arrangements are being handled by Updike Funeral Home & Cremation Service, Bedford.