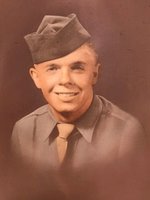 Carlton Rucker Farley
Carlton Rucker Farley, 91, of Bedford went home to be with his Lord on Wednesday, January 17, 2018. Born October 13, 1926, in Huddleston, he was a son of the late Thomas and Annie Hackworth Farley. Rucker was predeceased by his wife, of almost 70 years, Virginia Farley. He was also predeceased by seven siblings. Rucker served on the Virginia ABC Board and after enjoying a life spanning career, retired as manager of the Bedford ABC Store.
As an Army veteran, Rucker proudly served his country in World War II. He was a member of the Ozarks and served as Sergeant in the 102nd Infantry Division, 406th Regiment, Company B,and spent most of his time in Germany. Upon returning to the United States, he enlisted in the Army Reserve. He was a life member of the Veterans of Foreign Wars, where he held the title of Service Officer. He also belonged to the American Legion. In addition, he was a life member of the Bedford Elks Lodge #2844.

Rucker was passionate about cooking; some of his most joyful moments were spending time with the Liberty Class, at Bedford Baptist Church, where he was known to cook-up a mean breakfast. The same held true at the VFW each year, when their annual "oyster festival" rolled around. He was a magnificent dancer and could often be seen doing the polka. He also enjoyed simply piddling around the yard, making things look beautiful.

Rucker is survived by his three children, Sylvia Caldwell and her husband, Terry, Tony Farley and Lisi McFadden and her husband, Johnny; two grandchildren, Cherri Terry and Tracy Wilson and her husband, Doug; three great-grandchildren, Jessica Terry, Zachary Wilson and Marlee Wilson. The family wishes to thank his long-time caregiver, Bonnie Francis, for the love and support given over the last four years.
A celebration of Rucker's life will be held at 1 PM on Friday, January 26, 2018, at Bedford Baptist Church with Rev. Wayne Murphy and Dr. David Henderson officiating. Interment will be held in Greenwood Cemetery, Bedford. The family will receive friends Thursday, from 5 until 7 PM at Updike Funeral Home, and Wednesday and thereafter, at the residence. Arrangements are being handled by Updike Funeral Home & Cremation Service, Bedford. (540) 586-3304.