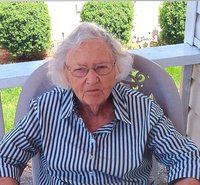 Juanita Atkinson McClure
Juanita Atkinson McClure, 93 of Bedford, passed away Friday, February 2, 2018 at Centra Bedford Memorial Hospital following a short illness. She was born on Saturday, April 19, 1924 in Bedford County, a daughter of the late Thomas Burrell Atkinson and Eula Gibbs Atkinson. She was also preceded in death by a son, Roger Fuqua, her sisters, Nita Creasy and Anna Poindexter and a brother, Thomas Atkinson.
Juanita was retired from Rubatex and was a member of Trinity Baptist Church. She enjoyed quilting, crocheting, gardening and reading. She especially enjoyed sitting on her porch with her dog, Charlie.
She is survived by her son, David D. Fuqua & wife, Darlene of Bedford; her daughter-in-law, Carolyn Fuqua of Bedford; her sister-in-law, Ruby Atkinson of Hurt as well as four grandsons, Michael Fuqua & wife, Donna of Illinois, Chris Fuqua & wife, Coral of Roanoke, Timothy Fuqua & wife, Robyn of Bedford, Paul Fuqua of Bedford; one great grandson, Austin Fuqua of Roanoke and several nephews & nieces.
The family would like to thank the staff at Centra Bedford Memorial Hospital and Oakwood Health and Rehab. Center for the comfort and support shown to us during the loss of our loved one. Also thanks to the neighbors for all of the acts of kindness and caring.
The family requests those wishing to make memorials to consider Bedford Humane Society, 829 Old Turnpike Road, Bedford, VA 24523
Funeral services will be held at 2 PM on Tuesday, February 6, 2018 at the graveside at Virginia Memorial Park with Rev. Tom Bryant officiating. There is no visitation. Arrangements are being handled by Updike Funeral Home & Cremation Service, Bedford