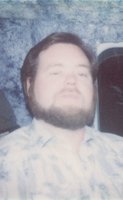 Vernon Lester Lacy
Vernon Lester Lacy, 61 of Bedford, passed away Tuesday, February 27, 2018 at Centra Bedford Memorial Hospital. He was born on Monday, November 5, 1956 in Bedford County, a son of the late Robert Franklin Lacy Sr. and Annie Mae Creasey Lacy. He was also preceded in death by his brothers, James Carl Lacy and Robert Franklin Lacy, Jr..
He was owner/operator of Bedford Auto Repair.
He is survived by his brother, Glenn M. Lacy; former sister-in-law, Connie Lacy Maxfield; nephew, Jonathan B. Lacy; a niece, Jessica L. Lacy; a very special companion, Evelyn Tolley; and dear friend, Brandon Maxfield. A graveside service will be held on Friday, March 2, 2018, at 11:00 AM at Nicopolis United Methodist Church Cemetery. The family will receive friends Friday, March 2, 2018, from 9:30 till 10:30 AM at Updike Funeral Home & Cremation Service, Bedford.