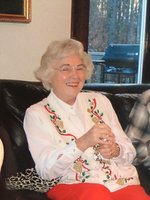 Eunis Turner Saunders
Eunis Turner Saunders, 88, of Bedford, VA died Wednesday, February 28, 2018 in the Bedford County Nursing Home. She was a daughter of the late Alton and Martha Turner.
Eunis was also preceded in death by her husband of 51 years, Harry Saunders and a brother, Rudolph Turner. Surviving her two sister-in-laws, Mary Taylor of Newport News, VA and Judy Saunders of Madison Heights, VA. She is also survived by numerous nieces and nephews that she called "her children" and cousins.
Eunis was a long time member of Morgans Baptist Church where she was a devoted Sunday School teacher.
She taught in the Bedford County school system for 37 years and was well know as "the red dress teacher".Being Senior class sponsor was an honor that she cherished. She was also a member of many community activities.The family has such fond memories of her and Uncle Harry hosting and cooking for many family gatherings.
In lieu of flowers, the family suggest donations to be made to Morgans Baptist Church or the Moneta Fire Department.
Visitation will be at Morgans Baptist Church on Saturday, March 3, 2018 from 11:00 am until 1:00 pm and a funeral service will follow at 1:00 pm. Burial will take place in the Morgans Church cemetery.
Arrangements are being handled by Updike Funeral Home & Cremation Services, Bedford.