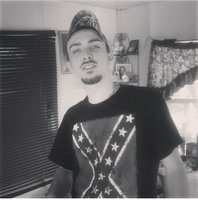 Joey Dwayne Roach, Jr.
Joey Dwayne Roach, Jr., 20 of Huddleston, passed away Tuesday, March 6, 2018 as a result of injuries sustained in an automobile accident. He was born on Wednesday, April 16, 1997 in Logan County, WV, a son of Joey D. Roach, Sr. and Donna Brown Brunner both of Huddleston, both of whom survive.
He was a logger at with JTR Logging.
In addition to his father & mother, he is survived by his son, Brayden; his sister, Tosha Roach; his brother, Jesse Wood; his paternal grandparents, Jerry & Joyce Roach; his maternal grandmother, Gloria Brown; his maternal grandfather, Richard Ray Brown; his fiance, Emileigh Berger as well as many aunts, uncles and cousins who loved him very much.
The family will receive friends from 12 until 1:30 PM on Saturday, March 10, 2018 at Updike Funeral Home & Cremation Service, Huddleston and funeral services will be held at the graveside at the Brown-Fowler Cemetery on Old Firetrail Road in Huddleston at 2 PM on Saturday, March 10, 2018.
Arrangements are being handled by Updike Funeral Home & Cremation Service, Huddleston