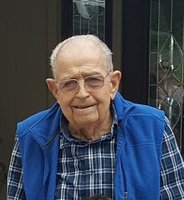 Ferris Everett Blankenship
Ferris Everett Blankenship, 90, of Moneta, passed away Friday, March 23, 2018 at the home of his daughter with whom he had resided for the past 5 years. He was born on Friday, July 15, 1927 in Bedford County, a son of the late John Thomas Blankenship and Grace Overstreet Morgan. He was also preceded in death by his wife, Peggy Anne Overstreet Blankenship, his brother, John Blankenship, Jr. & his brother-in-law, Ralph E. Overstreet.
Ferris enjoyed many things, the most important of which was providing for his family. He loved his chosen profession which was farming and he enjoyed the hard work in planting, growing and harvesting his crops. He also delighted in sharing the bounty from his vegetable garden with loved ones, friends and neighbors. He was the oldest living member of Palestine Baptist Church.
He is survived by his daughter, Delores B. Feazell & her husband, Gary; his grandchildren, Alicia F. Smith & husband, Jeremy, Jennifer F. Maciel & husband, Kenis, Michelle F. Ramaker & husband, Mitchell; his great-grandchildren, Keira & Karlee Smith, Brayden, Brielle, Braxton & Bellina Maciel, Nehemiah, Macie, Ezekiel & Callie Ramaker; his sister, Carlene McGeorge, as well as several nieces, nephews and other family members.
Tremendous and heartfelt thanks to the exceptional nurses (his girls) & staff of at Blue Ridge Dialysis Center, Bedford, who gave much more than medical care and treatment, but also provided a peaceful and compassionate environment; they showed him love and concern and they became like family. Special thanks also to Dr. Kwabena Awuah & John Cardwell of Lynchburg Nephrology, Dr. Jason Hackenbracht & Dr. Brandon Cox.

In his own words, he had a "good life" and while he fought as hard as he could, as long as he could, he was happy and at peace with his decision to discontinue treatment, and will see us again one day, when we celebrate our own homegoing.
The family will receive friends beginning at 4:30 PM on Thursday, March 29, 2018 at Updike Funeral Home & Cremation Service, Bedford and a funeral service will follow in the chapel at 6 PM. A private family graveside will be held in Palestine Church Cemetery. Arrangements are being handled by Updike Funeral Home & Cremation Service, Bedford.