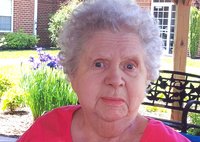 Gladys Dickenson Eubank
Gladys Frances Dickenson Eubank, 86, of Bedford, passed away Sunday, April 1, 2018 at Bedford County Nursing Home. She was born on Thursday, August 6, 1931 in Bedford County, the only child of Franklin "Red" Dickenson and Maude Snead Dickenson. Gladys was the wife of William Lewis Eubank for over forty-one years until his death in 2002. She was also preceded in death by a step-son, Lewis Guy Eubank.
Gladys was a member of Salem United Methodist Church. She spent the last years of her life in the excellent care of the staff of Bedford County Nursing Home. The caring attention and sincere love they provided made her final years comfortable, peaceful and happy. Their dedication will never be forgotten.
Survivors include her daughters, Zenda Eubank of Wirtz, Mona DeWitt & husband Edmond of Bedford, Freda Easterly & husband, Michael of Vinton; two grandsons, Caperton & Peyton Humphreys; step-son, Cecil Eubank & wife, Pat; step-daughter Deanna Slaughter & husband, Robert.
Funeral services will be held at the graveside at Suck Spring Baptist Church Cemetery at 2 PM on Wednesday, April 4, 2018 with Rev. Rick Dellinger officiating. The family will receive friends Tuesday evening from 5 until 7 PM at Updike Funeral Home & Cremation Service, Bedford.