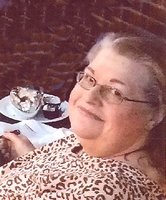 Twyla Bobbitt Martin
Twyla Bobbitt Martin, 64 of Moneta, passed away Saturday, April 14, 2018 at Centra Lynchburg General Hospital. She was born on Sunday, March 14, 1954 in Bedford County, a daughter of the late John Wesley Bobbitt and Reva Ashwell Bobbitt.
She was a Bookkeeper at Rapid Printing and Office Supplies.
She is survived by her sons, Jonathan Martin & wife, Jeanette of Moneta, Bryant Martin & wife, Lauren of Goodview; her grandchildren, Jay D. Martin, Julia Martin, Jonathan Martin, Jacob Martin, Cara Martin, Tyler Martin; her sister in heart, Trudy Seay, as well as many aunts & uncles.
The family wishes to express sincere appreciation to Centra Lynchburg General Hospital and the Neuro ICU for the care & kindness shown to our mother.
The family will receive friends beginning at 11 AM on Tuesday, April 17, 2018 at Diamond Hill Baptist Church and a memorial service will follow at 12 noon with Rev. Melvin Harris officiating. Arrangements are being handled by Updike Funeral Home & Cremation Service, Bedford.