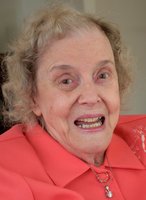 Marie Proffitt Sinclair
Marie Proffitt Sinclair, 94 of Bedford, passed away Saturday, February 10, 2018 at Bedford County Nursing Home. She was born on Monday, December 31, 1923 in Buckingham County, a daughter of the late William Washington Proffitt and Lola Patterson Proffitt. She was also preceded in death by her husband, Clement Forrest Sinclair.
She is survived by her son, Philip Louer & wife, Anne Elise Thomas of Bedford; her grandson, Sequoyah Seth Healy-Louer of Denver, CO; her granddaughters, Ayla & Mona Louer both of Bedford.
Funeral services will be held at the graveside at 11:00 AM on Saturday, February 17, 2018 at Gainesville United Methodist Church Cemetery, Gainesville, VA. There will be no visitation. In lieu of flowers, the family requests contributions to be made to the Centra Bedford Hospice, 1621 Whitfield Drive, Bedford, VA 24523. Arrangements are being handled by Updike Funeral Home & Cremation Service, Bedford.