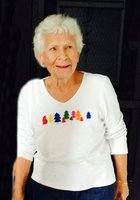 Shirley O'Brien Zimmermann
Shirley O'Brien Zimmermann, 93 of Bedford & formerly of Boynton Beach, FL, passed away Saturday, January 19, 2019 at Our Lady of the Valley Retirement Community. She was born on Wednesday, September 3, 1925 in Buffalo, NY, a daughter of the late John A. O'Brien and Catherine Biesinger O'Brien. She was also preceded in death by her husband, John Vincent Charles Zimmermann.
Shirley is survived by her children, Philip Zimmermann & his wife, Rita, Michael Zimmermann and his wife, Barbara and MaryAnn Zimmermann & her husband, Travis Darrow as well as nine grandchildren and six great grandchildren.
A funeral servce will be held ay 2 PM on Saturday, April 13th at Resurrection Catholic Church in Moneta with interment to follow in the church cemetery. A reception for family and friends will follow at Holy Name of Mary Catholic Church, Bedford.
Arrangements are being handled by Updike Funeral Home & Cremation Service, Bedford