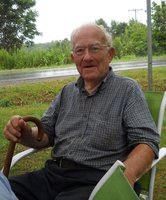 John Chapman Pagans
John Chapman Pagans, 90 of Moneta, passed away Wednesday, February 13, 2019 at Carilion Roanoke Memorial Hospital. He was born on Monday, May 14, 1928 in Franklin Co., a son of the late John Henry Pagans and Tennie Fannie Bobbitt Pagans. He was also preceded in death by his wife, Burnice Mae Arthur Pagans. He was a retired welder at Walker Machine Foundry.
He is survived by his son, Gary Wayne Pagans (Betty) of Goodview; daughter, Cynthia P. Hutchens of Moneta; three grandchildren, Jeremy Pagans (Anita), Eddie Nelson, Jr. and Elizabeth Rector & fiance, Dra'nekin; his great-grandchildren, Emerald Pagans, Dylan Nelson, Hunter Burns, Hannah Nelson, Carter Pagans, Arie McDaniel; a brother, Owen Pagans of Franklin Co.
Funeral services will be held on Friday, February 15, 2019 at 11:00 am at Updike Funeral Chapel, Bedford. Interment will follow in the Morgans Baptist Church Cemetery.The family will receive friends Thursday evening from 6 until 8 pm at Updike Funeral Home & Cremation Service, Bedford.