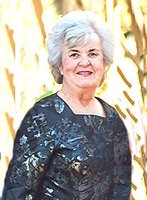 Charlotte White Fowler
Charlotte White Fowler, 67 of Bedford, VA passed away peacefully on Wednesday, February 13, 2019. She is now reunited with many loved ones who passed before her including her father, Roy Edwin White, step-father, Gene White, mother, Wanda Myers White and many aunts and uncles.
She leaves behind her husband of 47 years, Bill Fowler and her children, Ben (Sarah), Jon (Christi) and Katie as well as her godson, Wade Hampton. Also left behind are her sisters, Connie Long (Joe) and Kimberly Pauley (Tim); her niece, Hayley Long & her nephews, Will & Jeremy Pauley.
She also leaves behind many wonderful friends and memories. The party was wherever she was. Ever the hostess, her Sunday dinners were unrivaled. Thanksgiving happened three or four times a year at her house. She was a high school majorette, Sissonville, Class of 1969, played sax like she meant it, was as sassy as they came and was a rescuer of strays - cats or humans.
The family will receive friends from 1 until 3 PM on Saturday, February 16, 2019 at Updike Funeral Home & Cremation Service, Bedford, VA. She will then be taken to Long & Fisher Funeral Home in Sissonville, WV where the family will receive friends from 2 until 4 PM on Sunday, February 17, 2019 with a funeral service at 11 AM on Monday, February 18, 2019 in the chapel. Interment will follow in Floral Hills Cemetery in Sissonville, WV.
Arrangements are being handled by Updike Funeral Home & Cremation Service, Bedford and Long & Fisher Funeral Home, Sissonville, WV.