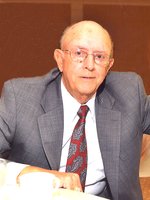 Carl Ashby Witt
Carl Ashby Witt, 85 of Bedford, came into the world on Saturday, September 2, 1933. He left it surrounded by loved ones on Saturday, February 16, 2019. Carl was the second son born to Benjamin Davis Witt and Helen Overstreet Witt Johnson. He was also preceded in death by his step-father, Thomas Lester "Buck" Johnson, brother, Lavender Delray Witt, sister, Faye Witt Preston, son, William Medford Witt and first wife, Rosalie Dooley Witt.
Those who survive and treasure his memory include his wife, Phyllis Tuck Witt; his granddaughter, Mindy Dawn Witt DeLong & husband, Joshua; daughter-in-law, Sherrie Ratcliffe Witt; his bonus family, Suzanne Keck & husband, Billy, Tracy Tuck & wife, Robyn, Mark Tuck & wife, Nancy, numerous grandchildren and three great grandchildren as well as many extended family members & friends.
Carl was a self made, true gentleman. He served in the U. S. Army and was retired from Rubatex Corporation after 43 years. In retirement he enjoyed working part-time at Fisher Auto Parts. Carl loves fast cars and was proud of his three vintage cars. He enjoyed traveling and had visited all fifty states. Reading and crossword puzzles were favorite past times.
The family requests that in lieu of flowers, please consider a donation to Radford Baptist Church Building Fund.
Visitation will be held from 5 until 8 PM on Friday, February 22, 2019 at Updike Funeral Home & Cremation Service, Bedford. A memorial service will take place at 11 AM on Saturday, February 23, 2019 in the chapel at Radford Baptist Church,1293 Radford Church Road, Moneta, VA. A reception will follow in the church fellowship hall. Arrangements are being handled by Updike Funeral Home & Cremation Service, Bedford.