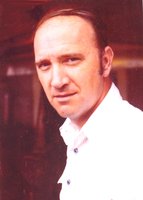 John Simmerman Williams
John Simmerman Williams, 77 of Bedford, passed away Sunday, February 24, 2019 at his residence. He was born on Saturday, May 31, 1941 in Roanoke, a son of the late George Williams and Maggie Williams.
He was retired from Kroger as a manager.
John is survived by his wife, Judy Wood Williams; his daughters, Nona "Kathy" McGary & husband, Pete, Tammie Williams, Teressa Williams, Kandice "Kandi" Alderman; son, Kevin Vaden Williams; step-sons, Craig Newel Alderman & wife, Jennifer, Chad Baxter Alderman & wife, Kimberly as well as eighteen grandchildren & seventeen great grandchildren.
A funeral service will be held at 10:00 am on Saturday, March 2, 2019 at Tree of Life Ministries, 2812 Greenview Drive, Lynchburg with Rev. Mike Dodson officiating. Interment will follow in Holy Land Cemetery. Arrangements are being handled by Updike Funeral Home & Cremation Service, Bedford.