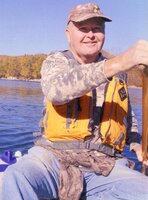 Leroy Guy Cram
Leroy Guy Cram, 79 of Goode, passed away Thursday, May 26, 2022 at his residence. He was born on Thursday, May 13, 1943 in Portland, Maine, a son of the late Carroll R. Cram and Theo Marjorie Robbins Cram.
He was a retired Surveyor at NOAA US Coast & Geodetic Survey Company.
He is survived by his wife of seventeen years, Sally Felder Thomas-Cram; her children, Donna Sharp, Benjamin L. Thomas (Christine); his daughter, Heather Krupinski (Matthew); seven grandchildren, five & 1/2 great grandchildren.
The family requests that in lieu of flowers, donations be made to Bedford Presbyterian Church or St. Josephs Indian School, P.O. Box 326, Chamberlain, SD 57326.
A memorial service will be held at 11 AM on Saturday, June 25, 2022 at Bedford Presbyterian Church.
Arrangements are being handled by Updike Funeral Home & Cremation Service of Bedford.