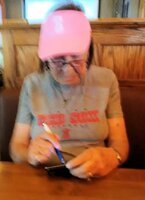 Lois Elizabeth Holcomb Zachman
Lois Elizabeth Holcomb Zachman, 78 of Huddleston, VA passed away Saturday, July 23, 2022 . She was born on Saturday, January 8, 1944 in Roanoke, VA, a daughter of the late Paul Holcomb and Mildred Huffman Holcomb. She was a retired Bookkeeper. Lois enjoyed Smith Mountain Lake, cross stitching and painting.
She is survived by her husband, Gerard "Jerry" J. Zachman of Huddleston; daughters, Joy Little of Vancouver, WA and Michelle Becker of Showlow, AZ; sons, Kevin Krc of Phenix, AZ and Christopher Krc of VA; step children, Kristopher Zachman & Shana Zachman, both of New York; grandchildren, Mark West, Gary West, Krysha Becker, Kaley Espinoza, Dakota Krc, Sharon Krc, Andersen Krc, and Lillian Krc; great-grandchildren, Jack West, Savahanna Krc and Annabeth Krc; 5 nieces and 2 nephews.
Funeral services will be held on Wednesday, August 3, 2022 at 11:00 am at Bethlehem U. M. Church with Pastor Scott Davis officiating.
Arrangements are being handled by Updike Funeral Home & Cremation Service, Bedford.