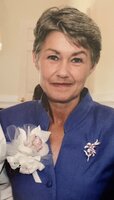 Annie Evans Heflin
Annie Evans Heflin, 69 of Lynch Station passed away Monday, August 1, 2022 at Runk & Pratt Senior Living Community – Leesville Road, Lynchburg. She was born Tuesday, September 16, 1952 in Campbell County, a daughter of the late Roscoe Robson Evans and Ollie Lawhorne Evans. She was preceded in death by her husband, Michael Ross Heflin, Sr., a son, Jeremy Heflin, an infant daughter, Pamela Ann Heflin and two brothers, Roscoe Robson Evans, Jr. and Ralph W. Evans, Sr.
Annie was a retired nurse from BGF Industries in Altavista, VA.
She is survived by a son, Michael (Cynthia) Heflin, Jr. of Huddleston; four grandchildren, four great grandchildren; sisters, Sharon (Bobby) Heflin of Lillington, NC; Sheryl Robertson of Madison Heights; Shirley Millington of Columbus, OH; brother, Lloyd (Brenda) Evans of Madison Heights.
The family will receive friends beginning at 10 AM on Thursday, August 4, 2022 at Updike Funeral Home & Cremation Service, Huddleston and a graveside service will be held at 11:30 AM at Independence Cemetery with Rev. Wayne Murphy and Rev. Roy Burton officiating.
Arrangements are being handled by Updike Funeral Home & Cremation Service, Huddleston.