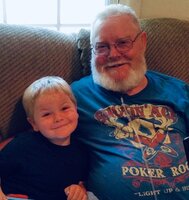 Cuthbert "Deter" Moorman Cox, Jr.
Cuthbert "Deter" Moorman Cox, Jr., 67, of Evington, passed away on Wednesday, February 8, 2023. He was preceded in death by his parents, Cuthbert & Beulah Dudley Cox; sister, Karen Stanley.
Deter loved to play guitar and sing. He was a fan of country music and loved watching westerns.
Surviving are his daughters, Stephanie Cox & Kimberly Campbell; grandchildren, Brittany Cox, Brent Campbell, Jeremiah Campbell, Brooklynne Campbell, Brandon Rice & Jayden Williams; sister, Wilma Johnson, brother, Larry Cox (Anne); many nieces & nephews.
A Graveside Service will be held at 2:00 p.m. on Saturday, February 18, 2023 at First Baptist Church of Evington Cemetery with Pastor W.L. Pillow officiating. The family will receive friends from 1:30 p.m. until service time at the cemetery.
Arrangements by Updike Funeral Home & Cremation Service, Bedford.