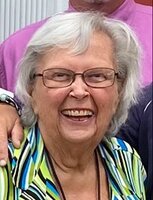 Judith Auer Toney
Judith Auer Toney of Bedford died February 16th 2023 after being in Hospice care for 2 days. She was born March 12, 1943 in Charleston, West Virginia. She attended Dunbar High School in Dunbar, West Virginia where she was a member of the honor society and a cappella choir. She went to West Virginia University where she was a member of Alpha Delta Pi sorority and graduated with an English degree. She met her future husband Alfred R. "Buddy" Toney Jr. through his mother Elizabeth Toney at her teaching job where she taught literature and remedial English in Ravenswood, West Virginia. They were married 54 years until his passing in January 2021. She was also preceded in death by sister, Betty Jane "Janie" Hermansdorfer, brother, Jack Luther Auer, mother, Margaret Miller Auer, and father, Lloyd Carl Auer.
She is survived by her son Steven Roy Toney and wife, Christine of Bellefontaine, Ohio; her daughter, Karen Toney of Davidson, North Carolina; grandchildren, Wesley Graham Toney of Dayton, Ohio, Daniel Roy Toney and wife Becki from Pittsburgh, Pennsylvania, Hannah Margaret Toney of Columbus, Ohio and Micah Lee Toney and wife, Lauren from Grove City, Pennsylvania.
Judy was close to her family and enjoyed vacationing together on cruises, trips to the Ohio Amish country, family Christmas get-togethers, houseboats and playing card games. Judy and Buddy bought a house on Smith Mountain Lake, Virginia in 2006 and loved sharing the house with family and friends. They loved nothing more than to turn every room into a bedroom so more people could come and share their lives together and play games. Many times, Judy and her "lady friends", the Ladies of the Lake would spend long weekends fellowshipping and being waited on by Buddy.
Judy grew up in the Dunbar Presbyterian church, serving in the Choir, president of the Women of the Church, and as Clerk of Session. She was a member of Bedford Presbyterian Church at her death. Under the shepherding and teaching of Pastor John Salley, she came to know and receive the Saving Grace of Jesus Christ.
A memorial service is planned for 11 AM on Saturday, March 18, 2023 at the Bedford Presbyterian Church.
In lieu of flowers, donations may be sent to the Bedford Presbyterian Church music department, 105 W. Main Street, Bedford, VA 24523 or the Bedford Sheriff's Office, co: BCSO- 1345 Falling Creek Rd. Bedford, Va. 24523 (Judy had an incident where 2 Deputy Sheriff's, Kyle and Daniel "happened" to go down her street and help her after she had fallen outside.)
Arrangements are being handled by Updike Funeral Home & Cremation Service, Bedford.