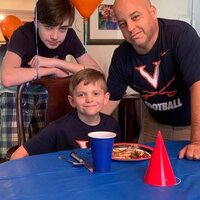 Jeffery William Fuqua
Jeffery William Fuqua, 51, passed away on Sunday, March 12, 2023. He was preceded in death by his parents, Barry Leigh Fuqua & Nancy Moseley Fuqua.
Jeff was an avid UVA fan. He loved going to car shows and Mustangs were his favorite. His two sons were his life's purpose.
Surviving are his sons, Gavin & Evan Fuqua; brothers, Chris & Ryan Fuqua; aunts & uncles, Patricia Nash & husband, David, Rhonda Fuqua & husband, Terry, Tommy Fuqua & wife, Hazel; many cousins, friends & other family members.
In lieu of flowers, donations may be made to Juvenile Diabetes Association, 200 Vesey Street, 28th Floor, New York, NY, 10281.
The family will receive friends at 1:00 p.m. on March 18, 2023 at Updike Funeral Chapel, Bedford followed by a Memorial Service at 2:00 p.m. with Pastor Shaun Minnix officiating.
Arrangements by Updike Funeral Home & Cremation Service, Bedford.