Our History
We stand behind our reputation and will continue to serve our community with the values instilled by our funeral directors.
Updike Funeral Home was founded in 1864 by Nathaniel Bennett Updike. His son, Oliver Luther Updike began helping him as a young man of about 25.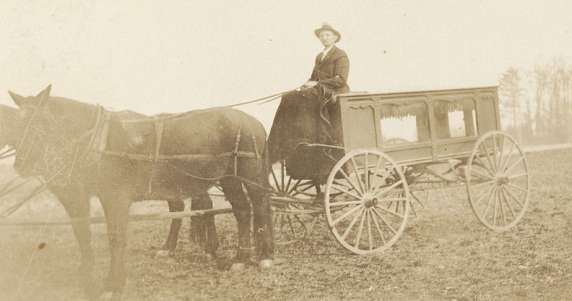 He started making fine furniture and continued until a neighbour asked him to construct a coffin for a family member who had passed away. From that time on, until he started buying ready-made coffins, he continued to make coffins for those who passed on. When someone needed a coffin made, they would come to Mr. Updike on horseback and bring a stick cut the length of the body for him to make the coffin by. Those sticks are still in the workshop at the Huddleston location today. He would work all night on the coffin and his wife, Mae, would hold the lantern for him to work by and then assist in lining it with cloth. He would then take the coffin to the home of the deceased and prepare the deceased in the home. They would also have the visitation in the home. Funerals were usually held at the local church. Nathaniel Bennett Updike passed away on May 3, 1934 and the business continued to be operated by Oliver Luther & Mae Updike.
The Updikes had three sons and four grandchildren. One son, Hatcher died in infancy. Kenneth Updike, youngest son, served his apprenticeship in funeral service and worked with his father about four years. He is now deceased but spent most of his adult life living in Staunton, Virginia.
Buford C. Updike, the oldest son, stayed with his father in the business at Huddleston. His wife, Frances L. Updike was the first licensed woman funeral director in Virginia. They continued to operate the funeral home after the death of Luther Updike in 1959.
In 1972, Frances Updike passed away and Buford Updike became semi retired; the operation was then passed on to their daughter, Peggy U. Zimmerman and Ralph Overstreet. They were joined in 1973 by Wayne L. Murphy, also a licensed funeral director, who retired in 1995. In 1979 Updike Funeral Home opened a branch location on Route 460 West in Bedford. Timothy Murphy, son of Wayne Murphy, a funeral service licensee, joined the firm in 1979 and Katrina Nester, Office Manager, daughter of Peggy U. Zimmerman and Ralph Overstreet, also joined the firm in 1979. Steven Rezzonico, funeral service licensee joined the firm in 1993. Pat Lavender, also a funeral service licensee, began working with the firm in 1997. Dale Robertson became a member of the Updike Funeral Home staff in 2002 as a funeral service licensee. He retired in March 2021 and Lisa M. Wooldrige, a funeral service licensee was hired. Lisa comes to us after having worked at Oakey's Funeral Service in Roanoke for over 15 years.
Peggy Zimmerman retired in 2004 and passed away on December 5, 2022 and Ralph Overstreet passed away after a brief illness in May 2011.